The time it takes the Daily Bruin staff at UCLA to complete and publish an assignment has almost halved since they started using Camayak in 2013. Back then it took the Daily Bruin newsroom an average of 64 hours to produce, edit and publish an assignment. So far in 2016 it takes them just 35 hours.
Year on year, the Daily Bruin staff have improved the pace at which they complete new assignments: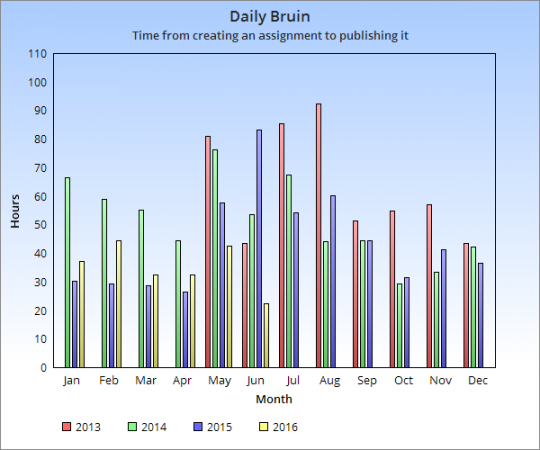 One reason for this faster process is that Daily Bruin contributors are submitting their first drafts in less than half the time that they did three years ago. In 2016 the average submission time has been under 10 hours, compared to over 21 hours in 2013.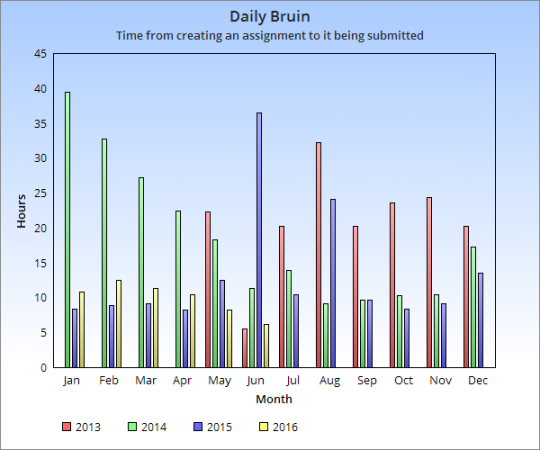 Editing at the Daily Bruin – that often requires six or seven people to check work before it's approved – has also become faster, taking 25 hours per assignment this year compared to 41 hours in 2013 (a saving of almost 40%). This year alone, the Daily Bruin team is showing marked progress in its efforts to complete the writing and editing components of its work with gusto.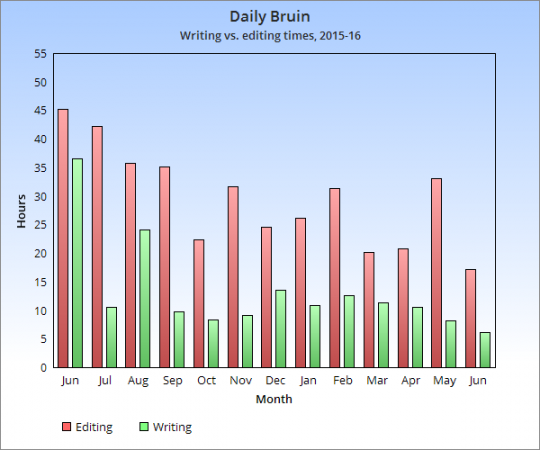 Despite working more quickly, the Daily Bruin staff haven't decreased the volume of their production – averaging between 330-350 assignments per month and on schedule to exceed that this year.
Another one of the first college publications to adopt Camayak – the Kansas State Collegian – are also showing a speed increase of almost 30% since 2013 and month-on-month this year are outpacing their first year using Camayak by more than 60%.
If you'd like to get an idea for how Camayak can help you evolve your own workflows, get in touch at hello@camayak.com.