It all started with a community college in Torrance, California.

"Oh, so you're not a CMS?" Kate McLaughlin – the adviser to the student media department at El Camino College asked. "I think I get what you're saying. You're just workflow, right? That could actually be really helpful".
Soon after El Camino College became our first beta tester in 2011, Steve Wolgast, who had recently joined Kansas State University's Collegian Media Group from the New York Times, decided we were worth taking seriously and invited us to pitch for helping the 'Collegian organize itself more efficiently and publish approved stories directly to its new WordPress site.
Over a year earlier, our initial plan for building Camayak had emerged out of a sense that we could contribute to a healthier ecosystem of CMS designed specifically for news production. Around the same time, other companies like Burt Herman's Storify were looking to give journalists better tools for composing their articles, while outsourcing services like Contently were also starting to make workflow a key part of their appeal to clients that were hiring writers through the same interface. For everyone in the news production business, speeding up collaboration was becoming more important for shrinking editorial teams to get the most out of their staff budgets.
Today, we're still working towards our goals of offering better archiving and multi-platform publishing to publishers, regardless of which CMS or social platforms they're using. Over the last three years, we've grown our customer base by eliminating bottlenecks in the processes of pitching, assigning, editing and approving editorial work. People using Camayak have published over 7 million words between them, enjoyed integrations with major media companies like Getty Images and even built their own connections to other services like Slack.
Encouragingly, we've seen increases in productivity in almost every single newsroom we've worked with for at least twelve months. We've also connected customers to help one another with advice and, particularly with student newsrooms, have enjoyed compiling data representations to point out quirky trends that their staff have helped to generate.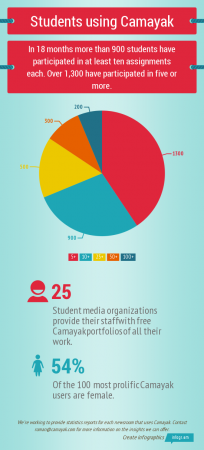 Earlier this year we even made "Journalism-Driven Data" – a musical rendition of some newsroom activity numbers:
Helping newsrooms become more active is a big part of our pitch, so we're happy to see rising engagement as newsrooms also use Camayak to increase the size of their contributor roster. Here's the trend of how frequently Camayak users were pitching new ideas, during our first two years as a live product: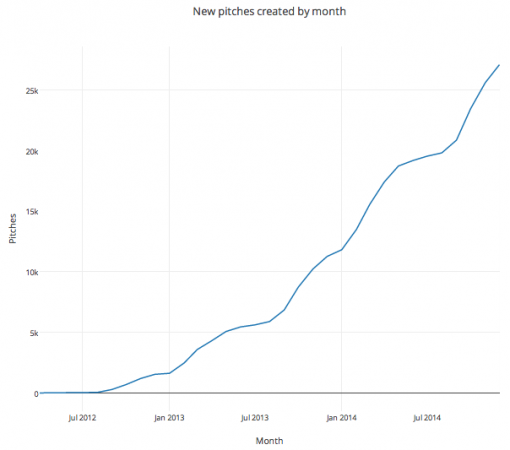 And a similar surging trend for how often Camayak users were commenting on their newsroom activity each month: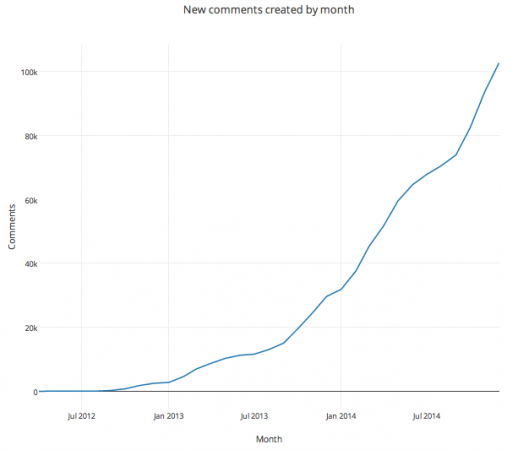 At the moment we have a diverse range of clients, from high schools to PR firms and college media to non-profit news organizations. Because we've charged for our service since day one, our reception among newsrooms has focused on our cost-to-benefit ratio. For up to thousands of dollars a year, is Camayak worth its expense? When a CMS and server costs are inescapably necessary for delivering content to its audience (although Facebook and other platforms might challenge this), how does a pre-publishing tool that only the newsroom interacts with stack-up as a budget priority? For most teams that are used to using their free generic tools, plugins and overtime (particularly in the form of student labor), the answer is: not at all.
Since Camayak isn't itself a revenue generating tool, we've always known that our ability to demonstrate our value would need to be user-centric and not cost-based. Quickly delivering value to the people that are actually using Camayak is, for example, much more rewarding than speculating to a senior editor that their existing workflow processes might be undermining their ability to save time and even grow their operation. With that in mind we aim to satisfy three types of user so that they each insist on retaining Camayak once they've tried it:
Reporter. First and foremost, logging into your newsroom as a reporter and contributing to its flow of content needs to be seamless and engaging, irrespective of whether you're a veteran or newbie. Our second goal is to convert the collaboration data we track into meaningful statistics that offer a broader and deeper insight into a reporter's performance in their newsroom. We do this by offering them a free portfolio of their work and, increasingly, helpful data on their productivity and style. As it stands, few – if any – services can offer insights like Camayak can into a reporter's actual newsroom performance.
Editor. Our objective with editors is to noticeably reduce the amount of confusion and admin tasks that surround the process of tracking editorial progress, week-in, week-out. This equates to a real saving in the amount of time it takes to produce the same amount of work as before Camayak was introduced to the newsroom. Since all assignments and pitches are tracked through Camayak, editors need a birds-eye view of their editorial calendar, which we have the information to build for them. Editors should find themselves with less micro-managing to do and more opportunity to determine strategy.
Administrator. We want to give the people paying the bills the best insights they can get on how their staff are performing. They, like editors, should also be able to piggyback off of their newsroom's momentum to offer best practice advice where it's needed most and commend excellent work more easiy.
Before any of these people log into a trial Camayak account, we usually answer some questions around objections that senior newsroom staff have on their minds. Such concerns include:
"This is going to cost us money we don't have". Two or three years ago I read a report claiming that newsrooms were not unlike a typical Fortune 500 company, in that on average they would devote between 2-4% of their operating budget to IT services that improved their business. To be as competitive as possible, we're committed to putting downward pressure on our pricing as our client base grows, particularly at the student/education level.
"This is just going to be another login for our staff to remember". When you're dealing with a high turnover of staff and/or folks that aren't technically advanced, the fewer interfaces they can be trained on, the better. Camayak replaces Google Drive, Dropbox, server access and even your CMS to offer content producers a single login to all their newsroom collaboration.
"We already have a CMS that handles our workflow". Once you've chosen a CMS you can expect to keep investing in the platform to make it move with your changing requirements in the future. Sometimes this investment is so intimidating that it can, often in conjunction with a dissatisfaction towards the platform itself, push you towards wanting to move to a different CMS entirely. Outsourcing workflow to a purpose-built layer like Camayak limits a newsroom's dependence on their CMS and fundamentally de-couples content production from where it eventually is displayed. As audience engagement platforms proliferate, designing a single CMS with both production and rendering requirements puts priorities at risk.

"Everybody has to use it in order for it to work" (aka "can't some of us use one tool and the rest of us use another?"). One of the main reasons we hear of people choosing to track their editorial workflow with tools like Camayak is to ensure they generate clean audit trails of what they've done. By addressing three different sets of user needs (see above) we work to make sure that the main stakeholders in a newsroom can each improve their workflows by using Camayak. While there may be a learning curve that comes with new tool, homogenizing the format of a team's input reduces the number of repetitive tasks between applications and significantly in the long term allows us to provide consistent performance measuring to editors and administrators.
We're working to build a better product that learns from the lessons we've taken from working with so many awesome newsrooms already. If you're looking for advice on how to manage your editorial calendar, streamline your editorial workflow or scale up your content production, you can find us at hello@camayak.com.